Disclosure: As an Amazon Associate I earn from qualifying purchases.
The Acei Cichlid Pseudotropheus Acei is a Lake Malawi Cichlid that is found around the lake's northwestern coast.
While they're not quite as visually striking as some other varieties of cichlid fish in terms of colorful patterns, they exhibit a subtle beauty with their elongated blue colored bodies and yellow-tipped fins. These fish are semi-aggressive, yet hardy, and should be an easy fish to keep for the beginning hobbyist.
Tank Considerations
The Acei Cichlid can grow to approximately 6 inches, which means they should be housed in a larger tank — 55 gallons and up, so you should start with the best 60 gallon aquarium you can find, and go up from that if required.
In the wild they inhabit waters that have plenty of rock landscaping with caves to dart into if they feel threatened, so replicating this at home will make these fish feel comfortable. You can also add some African driftwood for decorations as well.
In the wild, the Acei Cichlid inhabits waters with a higher pH than most other freshwater tropical fish, and you'll have to stay on top of water conditions to ensure their good health. While you can manage pH with chemicals, you can also do so by using a substrate that's aragonite-based. The water quality for keeping these fish should be as follows: Temperature, 76-82˚; pH 7.8-8.6, and hardness of 5-15 dGH.
As mentioned, these fish are somewhat aggressive and aren't suited to a community tank. It's best to house them in a species-specific tank for best results.
Health & Care
Like most of the African Cichlid fish, the Acei Cichlid is a very hardy fish and is relatively easy to keep. They don't succumb easily to disease, but that doesn't mean you can neglect to take proper care of these fish.
The most common disease affecting the Acei Cichlid is called Malawi Bloat or dropsy and this can be brought on by poor diet. Another common disease affecting them and all freshwater tropical fish is white spot disease or Ich. While both of these diseases are treatable, it's easier to take the proper preventative measures to ensure your fish don't get sick in the first place.
Maintain good water quality, feed them a well-balanced and nutritious diet, and minimize their stress; doing these three things will give your fish the best chances at fighting off any disease or parasite.
Diet
Unlike other African Cichlid fish, the Acei Cichlid is an herbivore and will feed on algae in the wild, but in the home aquarium, a diet made up of high-quality flake or cichlid pellet will do along with a treat of dried seaweed now and then.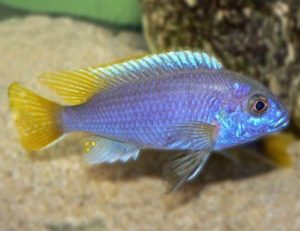 Breeding
Sexing these fish can be difficult, but the males have "egg spots" on the backs of their anal fins.
Breeding the Acei Cichlid in the home is relatively easy. Most experts agree that keeping a single male in a group of three or more females will produce the best results.
Like many African Cichlid fish, the females of this species are mouthbrooders, which means she'll take up the eggs once laid into her mouth and will follow the male until he releases his sperm, which she will also take into her mouth to fertilize the eggs. The eggs will hatch in about 3 weeks.
Summary
Fish Size: 6 inches
Tank Size: 55 gallons minimum
Water Temperature: 76-82˚ Fahrenheit
Water pH: 7.8-8.6
Water Hardness: 5-15 dGH
Diet: Herbivore
Breeding: Easy