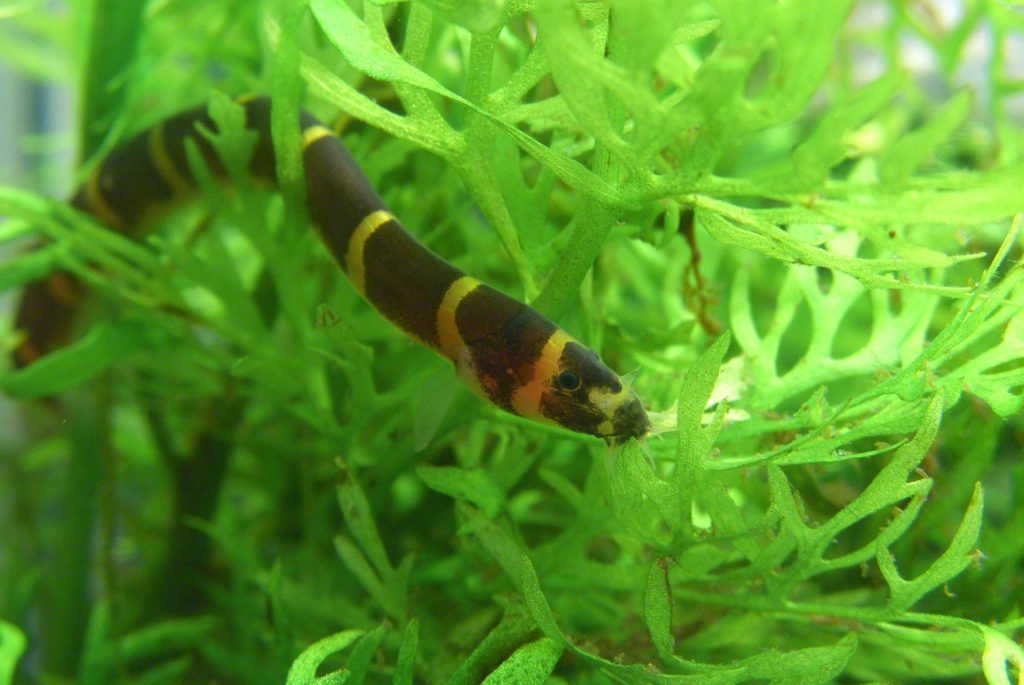 Disclosure: As an Amazon Associate I earn from qualifying purchases.
The Black Kuhli loach or coolie loach (Pangio kuhlii) is quite a different fish than the clown loach because it has a long, snake-like body that looks more like an eel. Just like the clown loach, the black kuhli loach's body is adorned with dark brown or black vertical stripes, and like the clown loach, this fish has barbels around the mouth.
Habitat
This freshwater tropical fish is native to the waters of Indonesia, Malaysia and Java. In the wild, black kuhli loaches live in streams with slow water circulation, and thick vegetation. They're scavengers that like to explore every nook and cranny of their environment so stocking your tank with plenty of robust plants and "caves" to explore will make these fish comfortable by giving them ample places to hide and forage.
In the wild, the black kuhli loach does swim in small groups, but they're not technically a schooling fish. And while you can certainly have several in your tank, they'll be fine by themselves.
Diet
In the wild, the black kuhli loach is a scavenger and sustains itself on plant matter, other fish and virtually anything edible that it finds on the bottom of the stream. In your tank, they'll be happy with whatever flake or pellet food you have, and will also enjoy a snack of bloodworms or brine shrimp.
Tank Considerations
Like the clown loach this fish likes to dig in the substrate, and hobbyists should provide them with the same type of sand/gravel mix that you would the clown loach to protect their barbels when they dig.
Unlike the clown loach, black kuhli loaches don't grow to monstrous proportions and typically range from 3-5 inches, which means you won't need quite as large a tank for this species. Experts recommend a tank no smaller than 20 gallons for this species. In addition, decorations such as rocks should be of the smooth variety so the fish won't damage its body as it tries to squeeze into tight places.
The black kuhli loach is a passive, shy tropical fish, and is generally nocturnal. However, when kept in groups of their own kind, they can become more active during the daytime as they grow more confident venturing out in greater numbers. These fish get along well in a community tank as it prefers to keep to itself and generally isn't aggressive towards other fish. Water quality is recommended to be medium-soft (5-12 dH) and the pH should be about 6.0-7.0, however, experts say this freshwater tropical fish can adapt to a variety of water conditions. In their natural habitat, water temperature ranges between 75-85° Fahrenheit.
Health and Care
One note is that black kuhli loaches, like clown loaches, are very susceptible to diseases and it's recommended that the hobbyist not subject them to sudden water changes. It's recommended that you only introduce them into a biologically mature tank. In addition, because this tropical fish has no scales, it's very sensitive to medications you might use to treat other fish in your tank for diseases such as ich.
You need to also consider the fact that these fish are very adept at getting into tight places, and like to hide. If you're looking for a fish you can watch you may be disappointed as they'll probably spend most of the daylight hours tucked away in a piece of driftwood or in a corner behind some vegetation.
Breeding
Breeding black kuli loaches isn't too difficult. These freshwater tropical fish generally reach sexual maturity at around 12 to 18 months of age. Out of the spawning season it's difficult to distinguish between the males and the females, however, during spawning seasons, the females are easy to spot because they're almost twice as thick as the males and you can see their eggs near the rear of the fish.
If you're up to the task of breeding these fish, you can do so with a relatively easy setup:
First, set up a 10-20 gallon long tank just for your breeding fish.
While they spawn in pairs, it's best to get a group of adults (six to 12 adults) and let them select their own mates. Don't bother adding gravel to the tank, and use a simple sponge filter. This makes it easy for you to keep the tank clean and to catch any fish you might need to move to another tank.
For decorations, add a few clay flowerpot saucers with a small hole in the side to give them ample cover. It's recommended that you add some Java moss, which can be suspended an inch off the bottom.
Focus on maintaining water quality as opposed to perfect pH. Change the water regularly and as long as you maintain a pH of 6.8-7.2, your fish should be happy.
Summary
Fish size: 3-5 inches
Schooling: Does well either alone or with a group
Tank size: Minimum of 20 gallons
Diet: Omnivore
Water temperature: 75-85° Fahrenheit
Water pH: 6.0-7.0
Water hardness: Soft to medium
Breeding: Moderate
Black kuhli loaches make for an interesting and fun to watch addition to virtually any tropical fish aquarium. They're easy to care for, get along well with their tank mates and aren't too difficult to breed.