Disclosure: As an Amazon Associate I earn from qualifying purchases.
Source: flickr.com | Artūrs Grebstelis
The Tiger Barb (Puntius tetrazona) is sometimes called the Sumatra Barb. It's a relatively small fish that only grows to about 1.5 to 3 inches long. It gets the name Tiger Barb thanks to it's yellow/gold body and black, vertical stripes. There are a few other varieties of tiger barbs that have different coloring. The Green Tiger Barb has a shimmery fluorescent green color while the Albino Tiger Barb is gold a cream with white stripes and accents of orange and red on it's fins. This fish is native to the waters of Sumatra, Borneo, Thailand and Malaysia.
In the wild, the Tiger Barb frequents shallow, slow moving streams, however, because they can be found in a wide range of habitats, they are very adaptable to different types of water conditions in the home setup. 
Tank Considerations
While the Tiger Barb is a beautiful fish that's fun to watch, they're not suited to a community tank as they're aggressive fin nippers and have been known to tear other fish to pieces. We've seen once beautiful angelfish left ragged and practically finless when housed with tiger barbs. They're a schooling fish, which makes matters worse if you have a group of these ganging up on their tank mates.
With that in mind, plan on keeping the tiger barb in a species only tank for best results. Since they remain relatively small, and since you'll only be housing them with their own kind, you can get away with a modest 20 gallon tank, but keep in mind that it's always best to go bigger than what you think you'll need if you can afford to do so because it's easier to maintain stable water quality in a larger tank. 
Source: wikimedia.org | Ranjithsiji
If you're dead set on adding these fish to a community tank (again, we recommend against this) then house them with tank mates that are of the bottom dwelling variety such as loaches or catfish. That's not to suggest that these fish won't fall victim to the nippers, but there's less chance they'll run into one another.
As mentioned, in the wild the Tiger Barb fish inhabits a variety of water conditions, and is highly adaptable to home setups. Still, it's preferred that you keep the temperature between 71.5˚ – 80˚ Fahrenheit, the pH of 6.5 and a hardness range of 2-30 dGH.
These fish are very active and do like to jump, so make sure you have a secure lid with no spaces they can jump out of. In the wild they inhabit places rich in vegetation, so put them in a well-planted tank to make them feel at home.
Health and Care
Tiger Barbs are very hardy fish and don't normally succumb to diseases that often plague the freshwater home aquarium, however, like most freshwater fish, they can develop Ich due to poor water quality. The best defense against disease is a good quarantine strategy, and that goes for anything new you add to your tank: live plants, fish and decorations. These can all harbor bacteria, which can upset your tank's balance and lead to disease. Also, give your tiger barb fish a proper diet to help keep their immune system strong, perform regular water changes, and they should remain disease free.
Green Tiger Barb | Source: wikimedia.org | Debivort
Diet
Tiger Barbs are omnivores and will gladly accept live food as well as high quality flake food. Most experts recommend giving them a high quality flake food as their main diet, and then supplement that with brine shrimp (live or frozen) or blood worms as an occasional treat. It's recommended that you feed these fish 3 times a day and no more than what they can eat in 3 minutes to avoid overfeeding.
Breeding
The difference between the Tiger Barb sexes can be difficult to determine, but generally the females are heavier and the males have brighter colors.
The Tiger Barb is an easy to breed fish, and raising their young can be easily accomplished by the beginner.
It's recommended you use a breeding tank if you want to breed these fish — preferably 20 gallons. Set your water quality in the breeding tank at 74-79˚ Fahrenheit and a pH of about 6.5 with a hardness of 10 dGH to encourage breeding. Give them plenty of nutritions food such as blood worms or brine shrimp, and the breeding ritual should begin after a few days.
Once the fish spawn it's important that you get the parents out of the breeding tank because they'll likely eat the eggs. The eggs normally hatch in 48 hours and the fry should be able to swim on their own in about a week. Feed them a good liquid food designed for fry until they're ready for a more standard diet.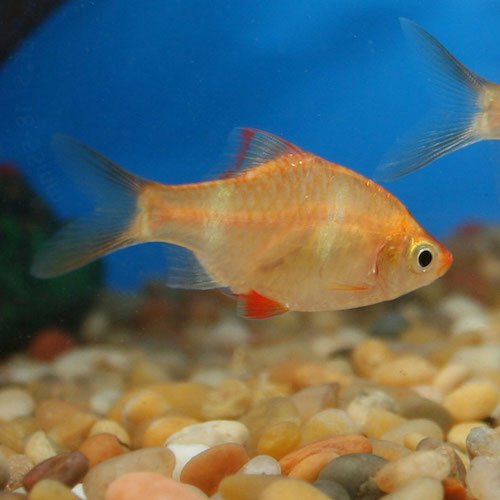 Albino Tiger Barb | Source: wikimedia.org
Summary
Fish size: 3 inches
Tank size: 20 gallons
Diet: Omnivore
Water temperature: 71.5˚ – 80˚ Fahrenheit
Water pH:6.5
Water hardness: 2-30 dGH
Breeding: Easy
The Tiger Barb is an exciting fish to watch. They look impressive as a school with their yellow and black stripes and they're very active swimmers, which contributes to people's enjoyment in watching them. They can be very tricky to keep in a community tank, and are better suited with their own kind, but as an extremely hardy and easy to care for fish, they can provide you with enjoyment for many years with the proper care.